I started my journey as a professional Clairvoyant in 2008. I began visiting local spiritualist churches which led to travelling the North East performing clairvoyant demonstrations within the church circuit.
In 2010 I set out on my own performing events and seeing people on a one to one basis.
In October 2014 having hundreds of people on a waiting list I had no other choice but to cease doing private one to one readings. This was a hard decision as the one to one experience is an amazing way to make a connection to loved ones on the other side.
In January 2015 I set out to reach as many people as I could holding 2 shows a week throughout the North East. With the aim to show the world our loved ones do not leave us once the body ceases to function. I am fully booked throughout 2015 but will be continuing with my work throughout 2016.
Services
I hold Events around the UK (40+)
I hold events across the UK demonstrating clairvoyance, giving real evidence life is eternal and our spirit lives on. See Upcoming Events.
For further details or to Book a show Contact now!
I am also available for interview and to give evidence of the paranormal existence. You can find evidence of my work above - Event Footage!
I predicted the attack in Istanbul #doyoubelieve @kerrythemedium twitter
After a warning I received back in October 2015 and further details I required from loved ones in spirit in May 2016 I wrote a status on Facebook warning people not to travel to Istanbul Turkey.
I am very saddened that my warning became a reality on 28.06.2016 when Istanbul Airport was hit by a terrorist attack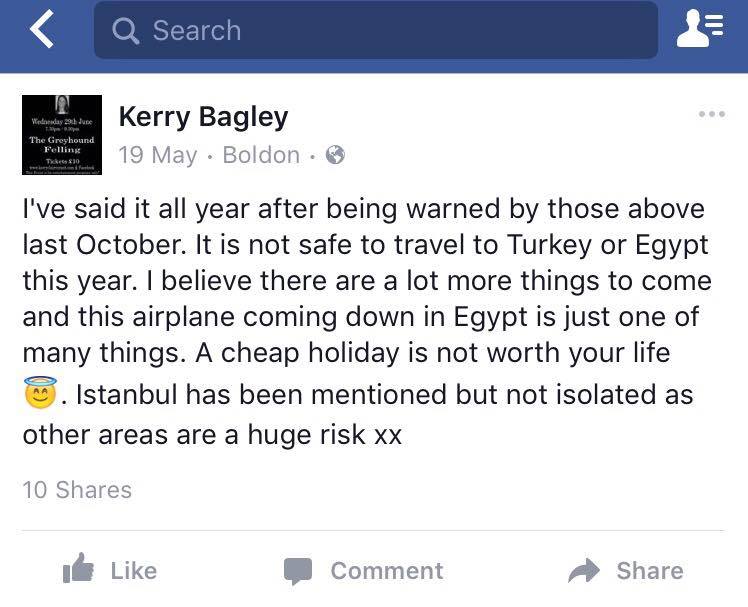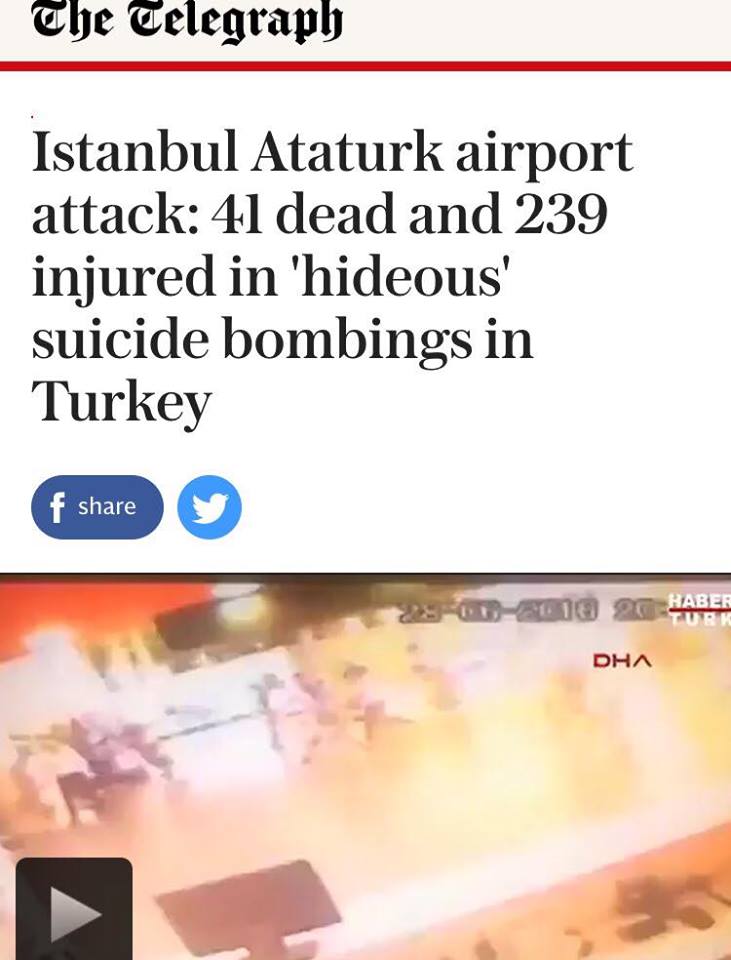 History
Having seen spirit all my life it wasn't until my daughter started seeing spirit at the age of 2 back in 2006 that I sought help from the local spiritualist church. The ultimate goal was to learn how to switch the ability to see spirit off. I soon learned this wasn't possible, so Iset out to learn how to control spirit in mine and my daughters life as my days hiding under the bed covers were becoming more frequent. This is where my journey began!
Testimonials
Thank you so much for tonight, I cannot believe you picked up both my mam and dad, even named my family, mam passed away 26th Jan so was even more surprised you picked her up so soon. When you zoned into my living room and picked up a very small angel (which you said was on my fire place was amazing). You even talked about a photo that i had in my purse of my mam, which i denied and said i keep a pic of my nana, only to remember when i got home behind the pic in my purse of my nana, is my mam, i totally forgot. Even more shocking was when you mentioned about my job, and the new opportunity coming my way, and i have just received an email from very senior management to go for another job, mind the money is a lot less which you got wrong. Mam and I have not spoken for a longtime so was really nice to know that she is still with me, making the funeral tomorrow easier, thank you xxx (Facebook Kerry Clairvoyant/Bagley Feb 4th 2016)
Extremely gifted!! If people are non-believers, then they should most definitely attend one of your shows!! (Facebook Feb 2016)
My mam died when I was 7 and my dad 18 year ago, I've had messages from my mam a few times but never anything from my dad. I was angry with him which i came to terms with this year. When I saw Kerry she gave me my mams name Anne and then spoke about my dad. It felt like she was bringing my dad through to me. She described pain of the heart attack my dad suffered, then explained my dad was worried about my sister who was suffering with alcohol abuse and that he wanted to give my nephew a clout as he was drinking too much too which he is, my nephew and dad were very close. She then named my dads brother Robert (who is his only living sibling) and described how he looked to a tee and even described his poorly knee and gap in his teeth. She then said i'd been keeping a diary and nobody knew this, and that i was having trouble with my ears.
It was a massive comfort to me as I've always felt that my dad and i couldn't communicate and that he was angry with me for holding a grudge, now i feel that even though he's not here we've cleared the air, it means the world to me knowing he's not angry with me, can't thank Kerry enough! (Maria Facebook October 2015)
Went to see Kerry on Wednesday she was brilliant within 5 mins of my reading I was crying with happiness she has lifted a huge black cloud from over me now I no my baby's are happy Kerry is amazing and id recommend her to any one not only that but Kerry makes you feel relaxed and at home which is lovely thank you so much Kerry xxxxxxxx 21/05/14 (Kerry Clairvoyant Facebook)
See more Testimonials